Refresh Your Home For The New Year!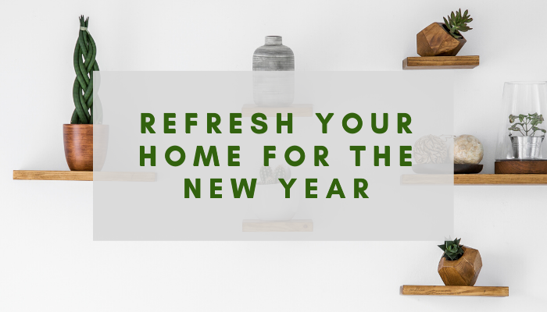 With the new year comes a new start. Whenever you first moved into your home or apartment you probably had a list of decorating ideas and projects to pursue. However, over time you get more comfortable and those projects are forgotten about. Let the new year be an excuse to finally get to those projects you've avoided! Even if it's a few simple décor changes, it can feel great to enter the new decade with a revamped space! Keep on reading to learn five tips to make your home feel brand new in the new year!
Get Organized With Shelving
Make it your goal to be more organized in 2020! Adding shelving throughout your home is a great way to improve your organization. Vertical shelving helps keep things off the floor and out of the way, so that you are free to enjoy your home!
Revamp Your Entry Way
The entry way is the first thing people see when entering your home. Don't waste your first impression! Find creative ways to store items like shoes, keys, dog leashes, and more with unique storage benches, shoe racks, and even bookshelves. Both new and consigned hallway storage pieces are currently available! Add some simple décor as well, like decorative sculptures, plants and paintings/photos to keep your entry welcoming.
Paint Your Walls
You don't have to buy new furniture or décor to make your space feel brand new! Painting the walls can completely change the feel and look of a room! Middlebury Furniture has design consultants who are happy help you find the perfect shade for your space! Learn more about your consultation HERE.
Reupholster Old Furniture
Do you have worn, antique furniture that holds a unique place in your heart? Lucky for you, we reupholster antique, unique, and one-of-a-kind furniture! With endless color and fabric options to choose from, you can customize and modernize that piece you love so much! Make an appointment to reupholster your furniture: Click Here.
Improve Your Natural Lighting with Hunter Douglas Window Treatments
From shutters to blinds to shades, Hunter Douglas has the perfect set of window treatments for your home. Every window covering by Hunter Douglas comes in a variety of colors or patterns and can be custom-made to fit even the most unusually shaped or sized windows! Learn more about Hunter Douglas products HERE then come feel the difference in our Design Center.
Cheers to the new year, a better you, and a revamped home!
Middlebury Furniture is Connecticut's perfect place to find both new furniture and consignment furniture for your home. Our selection ranges from luxury furniture to vintage furniture as well as unique home décor for every room in your home. Our team of experienced interior design professionals offer top of the line design services and expertise. Stop by today to check out our large selection of stylish furniture and to inquire about our home design services