Five Steps To Creating The Perfect Custom Chair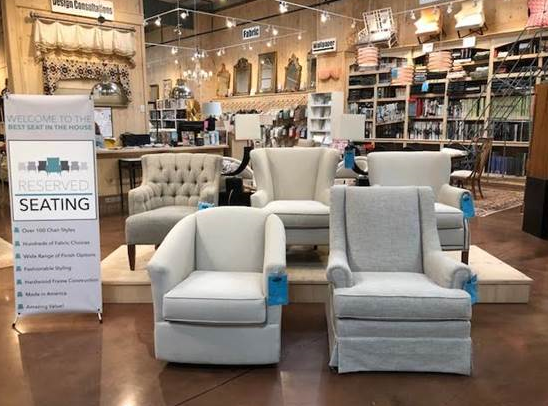 Whenever people talk about industrial interior design, the chair is almost always one of the main cultural objects discussed. Almost every famous designer or architect has their signature chair. A chair is so important because it is used in many aspects of life. From lounging at home, to watching a show, to working at the office. Because of its functionality and simplicity, an object like the chair really allows designers to put their own personal, creative touch on the product.
Channel your inner designer at Middlebury Furniture with our Custom Chair Program! This program allows you to work closely with our professional designers to create the seat of your dreams; a chair that will add the perfect touch to that special space you have in mind! Keep reading to learn the five steps it takes to create the comfy throne you deserve.
Step 1: Create a Vision
Take a good look at the space in which you desire your new chair to be. Take note of the colors, textures, availability of space, organization and any other factors that would be important when choosing a new piece of furniture.
Step 2: Talk to a Designer
Our Design Center is fully staffed with incredibly talented and experienced designers who are ready to walk you through the process! You can contact us at (860) 528-0130 or visit them in store to inquire about our Custom Chair Program.
Step 3: Design your Chair
We have over 100 different fabrics to consider! We also have a great variety of chair styles, such as tufted or swivel, to choose from! Our designers are happy to assist you in figuring out exactly what you want your chair to look like and what will look best in your home, all for a price that works for your budget!
Step 4: Get Excited for your Chair's Arrival
There is only a 6-week delivery period for all custom chairs. We know the wait, no matter how short, can be agonizing. But trust us! For your unique furniture with beautiful craftsmanship and professional design, it's totally worth it!
Step 5: Love your Chair
Your chair has finally arrived! Now it's time to put it in the perfect spot and see the room come together. Take a seat, make some coffee, grab a good book and enjoy!

Middlebury Furniture is Connecticut's perfect place to find both new furniture and consignment furniture for your home. Our selection ranges from luxury furniture to vintage furniture as well as unique home decor for every room in your home. Our team of experienced interior design professionals offer top of the line design services and expertise. Stop by today to check out our large selection of stylish furniture and to inquire about our home design services.