Everything You Need To Know About Hunter Douglas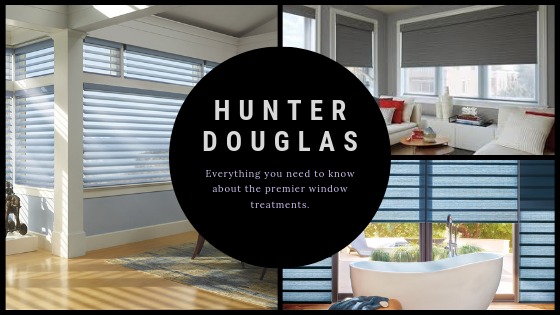 At Middlebury Furniture and Home Design, we are proud to be a Hunter Douglas retailer! Our experienced and knowledgeable design consultants will walk you through the process of finding the perfect window treatment option for you. Keep on reading to learn everything you need to know about purchasing Hunter Douglas window treatments!
Styles
Hunter Douglas offers a vast number of styles that will work for any home. They offer traditional styles, including wood horizontal blinds and shutters, contemporary styles, including Skyline Gliding Window Panels and Silhouette Window Shadings, energy-efficient styles, such as cellular shades, and naturally beautiful styles, like woven woods. Whatever you are looking for, Hunter Douglas has it!
Customization
Every window covering comes in a variety of colors and styles that will perfectly compliment your space. Custom fit treatments allow you to find the best feature; even for that odd shaped window that you just don't know what to do with!
Light Control
In some rooms, you want to enjoy bright, natural lighting, while in other rooms you want the opportunity to have darker lighting and more privacy (aka the bedroom!). That is why Hunter Douglas offers many levels of light control. Opaque roller shades effectively darken a room and provide complete privacy when lowered, while designer screen shades gently filter out damaging UV rays and provide some shade, but still allow a view of the outdoors. Horizontal blinds can block the light when closed, deflecting the direct sunlight while still letting in some natural light with the slats tilted, or be raised completely out of the way for a clear view outside.
Operating Systems
An important aspect that is often overlooked is the operating system! All Hunter Douglas window treatments come with manual operating systems that make them easy to use, but they also offer upgraded systems for those looking for more safety or convenience. For safety, retractable cord and cordless systems make your blinds and shades choke resistant for young children and pets. Motorization is the ultimate in window treatment convenience, allowing you to operate them with a remote or mobile device with the touch of a button.
UV Protection
Did you know that by installing window treatments you are protecting your furniture? As much as we love sunshine in the home, the rays can do damage to your floor, furniture, and artwork. Fading, discoloration and fabric damage are the downsides of the sunlight. Window treatments protect your room's interiors and add to the lifespan of valuable possessions. Every Hunter Douglas window covering filters out at least 75% of the sun's harmful UV rays when installed over double-glazed glass windows. Many products provide even greater protection, up to 99%, when fully lowered and with slats, vanes or louvers in the fully closed position.
The Process
Hunter Douglas window fashions are all made in the USA and come with a limited lifetime guarantee. Before any custom window treatment is made, precise measurements are taken of the windows to be covered. Then the completed blind, shade, or shutter is professionally installed, ensuring you have a positive experience throughout the process and the highest quality product once installed.
Take Action
Now that you know all that you need to know about Hunter Douglas, it's time to take action! The Hunter Douglas Gallery can be found in the back half of our showroom, next to the Design Center. To inquire about more information, or to speak with a designer call us at 203-528-0130.
Middlebury Furniture is Connecticut's perfect place to find both new furniture and consignment furniture for your home. Our selection ranges from luxury furniture to vintage furniture as well as unique home decor for every room in your home. Our team of experienced interior design professionals offer top of the line design services and expertise. Stop by today to check out our large selection of stylish furniture and to inquire about our home design services.