9 Pieces That Will Blow your Mind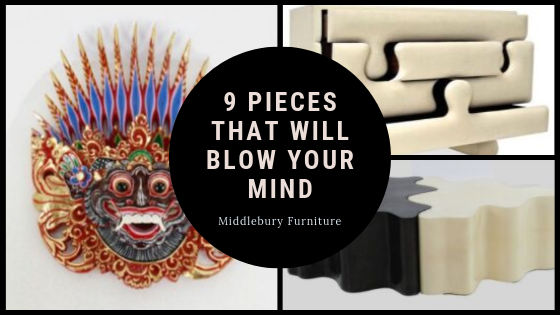 When it comes to home design some people like to keep it simple and others like to go bold! Whichever category you fit into it's always important to have at least one interesting focal point that will amaze your guests. Find a piece that you love and build the room around it! At Middlebury Furniture and Home Design we have a large selection of unique, one-of-a-kind pieces that will have you and your guests in awe! Keep on reading to see 10 mind-blowing pieces from our own inventory!
Balinese Hand Painted Mask

https://www.middleburyfurniture.com/products/balinese-hand-painted-mask-1/
This piece will add a bright, colorful feel to a room! This Balinese Wooden Hand Painted Mask of a Garuda will add the interesting twist none of your guests will expect!
Puzzle Table Lamp

https://www.middleburyfurniture.com/products/puzzle-table-lamp/
Designed for drama. The Jonathan Adler Puzzle Table Lamp is a stunning piece that will elevate any empty end table! Embellishing the square base is a carefully crafted geometric jumble of individually tooled solid antique brass sheets organized in an architecturally impressive way. Atop the luxuriously burnished base, a crisp matte black linen shade completes the look with simple elegance.
Painted Serving Trays

https://www.middleburyfurniture.com/products/painted-serving-tray/
These vintage serving trays have been uniquely painted and restored. Not every tray is the same in color or design and they measure at 18-inches in diameter. This is a small accessory that doesn't require a huge commitment. You can let it shine when the time is right, and you can store it away when it's not!
Dory Bookshelf and Table

https://www.middleburyfurniture.com/products/dory-bookshelf-table/
The Dory Bookshelf and Table will be the perfect addition your beach our lake house. Or maybe you don't leave near a body of water, but you still want to channel that relaxing nautical feel! Constructed to resemble a classic dory boat with oars, this 47-inch nautical display unit can be used as a standing bookshelf or as a unique coffee table with a glass tabletop. Whether used as a table or bookshelf, the unit is perfect for displaying collectibles, books, and other keepsakes you want to show off!
Houdini Silver and Gold Leaf Light

https://www.middleburyfurniture.com/products/houdini-12-light-32-inch-silver-and-gold-leaf-pend/
The Houdini Silver and Gold Leaf Light looks like it is performing a magic trick right before your eyes. The design and style seem unreal! The subtle and versatile finish makes this an easy piece to add to your favorite space!
Mongolian Chest

https://www.middleburyfurniture.com/products/antique-mongolian-chest/
This is a beautiful antique Mongolian chest from the 1880's. It has a distressed look due to its age with a top drawer and a bottom cabinet with two doors. Its top is painted black and it has a faded red and gold picture painted on its front. This is an interesting piece to add to a room that is not too bold but is still very unique!
Scala Luxury Associated Coffee Table

https://www.middleburyfurniture.com/products/associated-coffee-table-two-goatskin-pieces/
Bold but refined, this commanding cocktail table is composed of hand-polished brass and is a feast for the eyes with its angular shape. This fascinating piece is impressive through its geometric design and elegant lines. These two independent coffee tables can be put together or taken apart and placed in any position that accommodates your needs. One is finished in white goatskin and the other is finished in black goatskin.
Scala Luxury Puzzle Chest

https://www.middleburyfurniture.com/products/puzzle-chest-natural-goatskin/
Scala Luxury knows just how to combine art with functional furniture. This four-drawer natural goatskin chest has a lacquer finish with a matte finish. The drawers fit together like a puzzle piece. This item is so unique your guests will be puzzled wondering how you got your hands on it!
Avalon Rabbit Covered Acrylic Stool

https://www.middleburyfurniture.com/products/avalon-rabbit-covered-acrylic-stool/
Interlude Home, an iconic modern home collection, designs and curates exclusive furniture, home accessories, lighting and wall decor. Interlude offers supremely stylish accents that are in style, yet classic enough to work with any aesthetic. The Avalon stool has a rabbit fur top with a grey and clear finish. A beautiful addition to any space!
A quick scan through our website or a stroll though our store is all it takes to stumble upon the piece that you never knew you needed!
Middlebury Furniture is Connecticut's perfect place to find both new furniture and consignment furniture for your home. Our selection ranges from luxury furniture to vintage furniture as well as unique home decor for every room in your home. Our team of experienced interior design professionals offer top of the line design services and expertise. Stop by today to check out our large selection of stylish furniture and to inquire about our home design services.