Designing a Stylish Yet Functional Room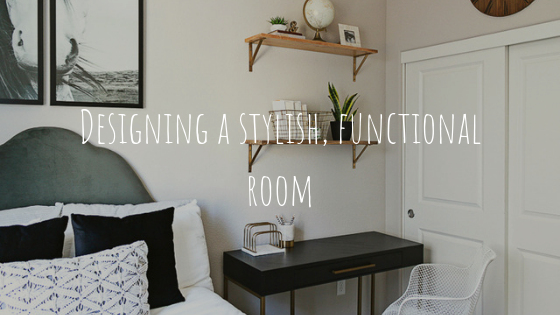 Many homes have at least one space that serves multiple functions, especially if you live in a smaller home. For example, a guest room that also serves as a home office and maybe a storage room as well. When a room serves several purposes, it can be difficult to design it to be both functional and stylish. However, it's possible! Keep reading to discover how to master the art of combining function and unique style.
Create a Hidden Organization System
A simple way to store and conceal items is by using baskets under the bed. Perhaps these bins store your child's toys or in a home office, office supplies. If under the bed isn't option, a clever hack is to use large decorative baskets. You can store the not so pretty items at the bottom and lay a throw blanket or pillow on top. Also using nightstands instead of end tables allow for more storage!
Choose a Small Desk with Built-In Storage
You don't want the desk to take up too much space. Choose a small one, with a drawer or two for storage.
Incorporate an Eye-Catching Piece
Just because the room needs to be functional doesn't mean you can't have some fun with it. Choose a bold piece to hang on the wall to add some luxury style to the room. It creates a strong focal point that guests will instantly be drawn to. Vintage décor or antique décor are great conversation starters!
Use the Walls
Incorporating your personal unique style can be difficult when space is limited. This is why using shelves can be a great opportunity to display decorative objects without taking up needed space. At Middlebury Furniture we have a large variety of antique décor and vintage décor that will give your room the stylish touch it needs!
Get Creative with the Layout
Middlebury Furniture is Connecticut's perfect place to find both new furniture and consignment furniture for your home. Our selection ranges from luxury furniture to vintage furniture as well as unique home decor for every room in your home. Our team of experienced interior design professionals offer top of the line design services and expertise. Stop by today to check out our large selection of stylish furniture and to inquire about our home design services