A Guide to Selecting the Perfect Rug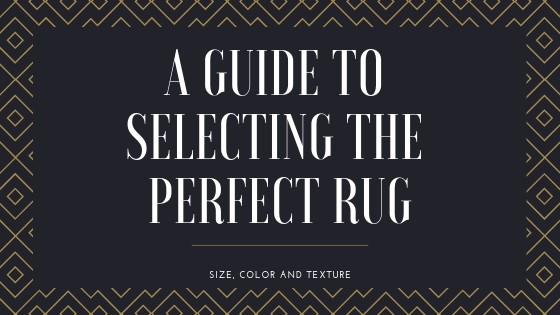 A rug is an excellent way to tie together a room as well as add some comfort to the space. A rug provides warmth, noise reduction, and an overall grounding aspect to the room. At Middlebury Furniture we have a large selection of rugs and a great variety of different styles to choose from. Don't know where to start when it comes to selecting a rug? We have created a simple guide to help you find the perfect one. Luckily for you, we are also having a rug sale! You can get up to 20% off all rugs in stock, and up to 10% off all custom orders of Stanton rugs. This sale ends February 28th 2019.
There are three things to consider when choosing a rug: color, texture, and size.
Color:
The first thing you want to do is examine your space. Is there already a lot of color and pattern? If so, you might want to stick to a simpler rug. Look for a solid colored rug and maybe even a neutral colored rug. Not only do you want to look at the furniture and décor but also consider the floor and wall color as well. Although it may be easiest to play it safe, don't be afraid to express your unique style because if it's done right, it can really make a room stand out. If you know you want a patterned rug it may be easiest to get the rug first and home décor with your new rug in mind.
Texture:
Rug texture can be a great way to add dimension and layers to your room. Look at the existing furniture and think how you can contrast it. If you have sleek furniture, such as a leather couch, a fluffier rug might be the way to go. If your furniture is made of a soft fabric, such as chenille, you may want to select a rug with a sleeker look. Also consider the type of space you are decorating. In a high use room, you may want to use a low pile rug, while a bedroom is a nice area to use a high pile or shag rug.
Size:
The rug does not need to necessarily fit the entire room, but it does need to fit the seating area. In a perfect world all furniture would be on the rug, but if that's not achievable, all front legs of the furniture on the rug is a good compromise. Under a dining table, you'll want to be able to pull the chairs out and they'll still be on the rug, while in a seating area you want your feet to be on the rug as you are sitting. Another thing you want to consider when selecting a rug is the shape of the room. A rectangular room is best with a rectangular rug that aligns with the direction. A square room looks great with square or circle shaped rugs.
Now that you know the basics of choosing a rug, be sure to check out at all the rugs we have in stock and take advantage of our sale before it's too late! Still struggling to find the right rug? Don't hesitate to stop by the store, where our team of experienced interior designers are happy to help. Happy decorating!
Middlebury Furniture is the perfect place to find both new furniture and consignment furniture for your home. Our selection ranges from luxury furniture to vintage furniture as well as unique home décor for every room in your home. Our team of experienced interior design professionals offer top of the line design services and expertise. Stop by today to check out our large selection of stylish furniture and to inquire about our home design services.