7 Easy Steps to Design a Custom Bed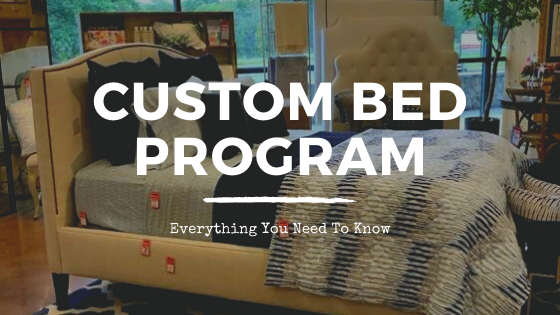 Imagine this: Coming home every day and collapsing in the comfort of your one true love…your bed! Having a bed that you love is so important. Your bedroom serves as a safe haven, a place to truly let go and forget about the hardships of the day. Results from a survey commissioned by the National Sleep Foundation (NSF) suggest that people sleep much better when their bedrooms are comfortable and clean. Who knew the aesthetics of your environment can actually affect your quality of sleep! At Middlebury Furniture, we know just how critical a beautiful bed is to the overall aura of your bedroom, which is why we created our Custom Bed Program. In seven easy steps you can create the bed of your dreams!
Step 1: Choose One of Four Headboards
First, choose a headboard! Headboards give support to your bed, as well as protect your wall from abrasion. It also is a statement piece that adds a personal WOW factor to your bedroom! We have four brilliant headboards to choose from. These styles are shown below.
| | |
| --- | --- |
| Ann Marie | Julia |
| Leanna | Tatum |
Step 2: What Do You Need?
Do you need a complete bed? Including headboard, upholstered rails and footboard? Do you need just a headboard and side and foot rails? Or just a headboard? Whatever it is, we got you covered.
Step 3: Select a Bed Size
Choose between a twin, queen or king size bed frame.
Step 4: Select Fabric
With over 150 fabrics at introductory pricing and more than 500 fabrics overall, the possibilities are endless! We offer a vast selection, so that we can achieve the exact personal touch you've been looking for.
Step 5: Select Border Treatment
Style your borders with custom welt treatment and nail head trim. We offer four different nails to choose from, so you can choose the metal that perfectly compliments your fabric. The different nail head types include: antique brass, black nickel, French natural, and pewter.
| | |
| --- | --- |
| Welting Options | Nail Heads Selection |
Step 6: Choose Leg Style
Choose from three different leg styles: curved tapered, tapered and turned.

Step 7: Select Wood Finish
Choose from five different finish stains and colors: Metro, Sable, Sand, Slate and Walnut.

That's it! Easy, quick, and 100% designed by you. You'll be sleeping in your new, custom bed in no time! Contact Middlebury Furniture today to work with our experienced designers to start re-designing your bedroom!
Middlebury Furniture is Connecticut's perfect place to find both new furniture and consignment furniture for your home. Our selection ranges from luxury furniture to vintage furniture as well as unique home décor for every room in your home. Our team of experienced interior design professionals offer top of the line design services and expertise. Stop by today to check out our large selection of stylish furniture and to inquire about our home design services