5 Ways to Welcome Spring into the Home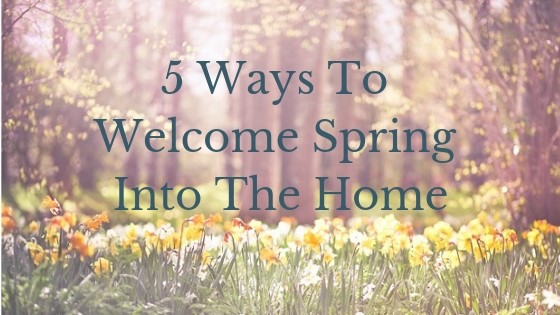 Birds are chirping, flowers are blooming, and days are getting longer…spring is here! It's time to ditch the cozy blankets and the cinnamon scented candles for fresh flowers and vibrant pastel colors! Today we are sharing five decorating ideas to transition your home décor from winter to spring!
1. Introduce Color
The colors that come to mind when thinking of spring are soft pastels such as blush pink, lavender and baby blue. You can introduce these colors with easily interchangeable home décor pieces such as throw pillows, dish towels, and other decorative accessories.
2. Freshen Up with Spring Scents
What are some scents that speak spring to you? Fresh cut grass, flowers, lavender… to name a few. Buy a spring candle or an essential oil diffuser! Not only will your home smell divine, but specific scents can have positive effects on your mental state as well. Citrus scents and fresh scents are known to bring energy and productivity!
3. Add Life to Your Space with Flowers and Plants
The outdoors is coming to life with blooming flowers and vibrant green grass. Bring some of that energy into your home with fresh cut flowers on the dining table and hanging plants in the window.
4. Declutter
Spring is the time to reset! The perfect way to do this is to clear out all the old junk you've been ignoring all winter long. Wash those curtains, dust the mantel, and air out the rugs. A clean and organized home is exactly what you need to channel the spring vibes!
5. Lighten Up
Get rid of heavy and dark textures. Fold up the wool blanket and replace it with an airy linen. Swap the dark colors for pastels and neutrals. Open those Hunter Douglas shades and let in the warm sunshine and refreshing breeze!
In New England, the official start of spring doesn't always mean that warm weather is here to stay; however, incorporating these tips can help you bring the warmth of spring into your home design even on those days when Mother Nature seems to forget what season it is! Happy spring decorating!
Middlebury Furniture is Connecticut's perfect place to find both new furniture and consignment furniture for your home. Our selection ranges from luxury furniture to vintage furniture as well as unique home décor for every room in your home. Our team of experienced interior design professionals offer top of the line design services and expertise. Stop by today to check out our large selection of stylish furniture and to inquire about our home design services