How To Make The Most Out Of Your Small Space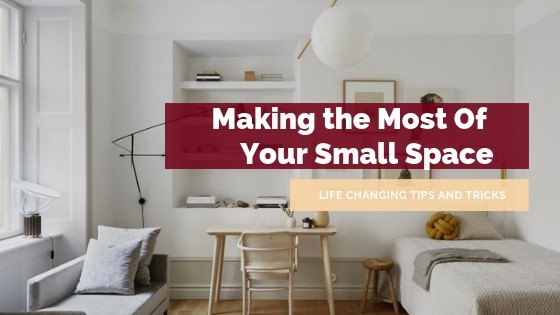 Whether it be a cramped dorm room in college or a tiny studio apartment, most people will have to learn to live in a tiny space at some point in their lives. However, the experience doesn't have to be a bad one! There are many simple ways that you can make a space feel larger, and we're here to help! Continue reading for a list of life-changing hacks so you can learn to love your tiny space.
Downsize Your Dining Table
When people think of a dining table, they often think of a grand, spacious table that can seat many guests. However, that's not always practical. Instead, opt for a small round table that can seat 2-4 guests. The extra space will be worth it!
Mount Your TV
A TV stand is one of the most unnecessary objects that take up space. Mounting the TV to the wall not only gives off a chic and minimalist look, but it will also free up floor space.
Maximize with Mirrors
Using mirrors to give off the illusion of maximum space is one of the oldest tricks in the book. Placing a standing mirror in the corner or a mirror adjacent to a window will make the space appear larger and more open.
Neutrals and Patterns
A mix of bold colors will make a room feel closed and cramped. However, using light colors like whites and greys will make the space feel like a breath of fresh air. Be sure to incorporate some patterns or else the room will fall flat.
Create Zones
Creating zones is especially useful in a studio apartment where one room has multiple functions. The goal of this is to make clear borders that signal when a space shifts to a different purpose. A great way to do this is to use a rug to outline the living room or a divider for the bedroom. Paint colors can also do a great job of highlighting a space.
Add Glass
If you are in a position where remodeling is an option, adding large windows and glass doors is an amazing way to open the space. A beautiful view outside is the perfect way to make a room feel limitless and cure any cramped feelings.
Keep in mind that there are many reasons to love your small place. They're cozy, often more organized, and easier to clean. Don't just live in your tiny space, thrive in it!
Middlebury Furniture is Connecticut's perfect place to find both new furniture and consignment furniture for your home. Our selection ranges from luxury furniture to vintage furniture as well as unique home décor for every room in your home. Our team of experienced interior design professionals offer top of the line design services and expertise. Stop by today to check out our large selection of stylish furniture and to inquire about our home design services.