5 Ways to Boost Your Mood at Home During the Dreary Winter Months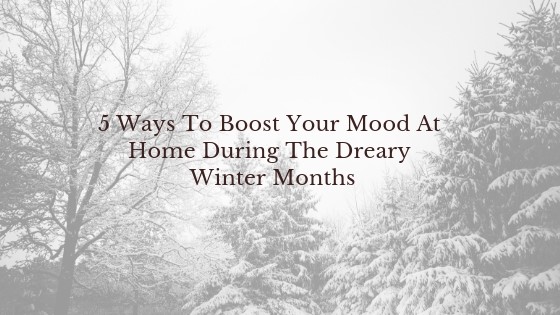 It's early March which means the winter blues are at an all-time high. It seems like the snow will never melt and the sun's warmth will never kiss your skin again. The good news is winter will be over soon. The bad news is it's not over yet. However, we can help! During the winter months we often spend a lot of time at home and that's why it is important to make sure your home is a space that radiates bliss and fills you with joy. Check out these five simple ways to make your home a happier place during the dreaded winter months.
Clean and Organize
According to a study in Personality and Social Psychology Bulletin, women who described their home as "cluttered" had higher levels of the stress hormone known as cortisol compared to women who described their home as "restful" and "restorative". Coming home to a house full of unfinished projects and mess can lead to feelings of hopelessness, anxiety, and exhaustion. Taking the time to clean and organize your home can not only be therapeutic in the moment but can allow you to feel as if you can truly relax.
Make Your Bed After You Wake Up
Making your bed ignites a feeling of accomplishment as you complete the first task of the day. Making one good choice often kickstarts a series of good decisions, so choosing to make your bed is a great way to start the day! Having a made bed also encourages you to keep the rest of your room tidy, and a tidy room means an improved mood!
Decorate With Artwork or Photos that Make You Happy
Art is known to evoke emotion, so choose a piece that fills you with happiness every time you look at it. Unique style pieces from vacation, antique décor that were family heirlooms, or displaying photos of friends or family are all great ways to make your space feel more like home.
Use Mirrors to Maximize Natural Light
Natural light is known to boost mood, energy, and productivity levels. Try strategically placing mirrors in order to make the most out of the natural light that you have. Place a mirror across from a window or in a dark corner to brighten the space. Mirrors can also make a space appear larger. Feeling cramped and smothered is no fun, which is why a mirror is a great way to open up and brighten your space. At Middlebury Furniture we have a large variety of mirrors that would look amazing in your home! Check out some of our favorites below:
Use Pillows and Throw Blankets to Cozy Up Your Couch
It can get chilly in the home especially during the winter months. And what better way to make yourself feel at home after a long day than to cozy up on the couch with a comfy pillow and throw blanket. Many of the tips we have offered are to help boost energy and productivity but it's also important to feel like you can relax and wind down in your home. Lounging on the couch and reading a book or watching your favorite TV show can be great ways to end your busy day. Explore pillows and blankets in our home décor section.
Finally, keep in mind that you can't control the weather, but you can control your environment. We hope you make use of these tips so that you can live your best life, despite the cold temperatures!
Middlebury Furniture is Connecticut's perfect place to find both new furniture and consignment furniture for your home. Our selection ranges from luxury furniture to vintage furniture as well as unique home décor for every room in your home. Our team of experienced interior design professionals offer top of the line design services and expertise. Stop by today to check out our large selection of stylish furniture and to inquire about our home design services