NEW
Sailboat (1921) Rope Napkin Box NEW NA
SKU# 101377
$49.00
Dimensions:
5.75in L x 1.5in W x 5.75in H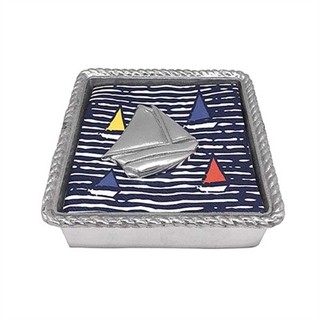 Details
Artfully woven rope combines both casual entertaining and haute decor--on the High Seas or at Home. Throw off the lines and set sail to a destination all your own. Part of the High Seas collection, the Twist Napkin Box borders sailboat blueprint cocktail napkins which are topped off with a recycled aluminum Sailboat Napkin Weight. Handcrafted from 100% recycled, buffed-until-brilliant aluminum.Recycled Sandcast Aluminum
Our inventory can change daily, please call 203-528-0130 to confirm availability.