NEW
Antique 3 Handle Pot
SKU# 103528
$1,875.00
Dimensions:
Approx. 32" dia x 39" | 29" neck opening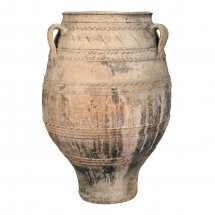 Details
Ancient Greeks used decorative clay pots to store everything from wine and spices to cosmetics and perfumes. The tradition of form and functionality in Greek pottery has continued for centuries. Our large vintage urns are hand-selected from Mediterranean villages, with each piece at well over 100 years old. Size, color, design & condition vary.
Our inventory can change daily, please call 203-528-0130 to confirm availability.