NEW
Tika Pot
SKU# 103576
$36.00
Dimensions:
Approx. 3'' dia x 4'H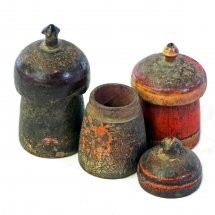 Details
Tika Pot The paint and patina of our vintage wood pot is inspired by Hindu tika, which is the red spot worn on the foreheads of many Indians to greet visitors to their homes and mark auspicious occasions. It can also s
Our inventory can change daily, please call 203-528-0130 to confirm availability.