CONSIGNED
Rome Brass Armillary Sundial with Star, Verdigris,
SKU# 110085
$199.95
Dimensions:
18" Diameter x 17"H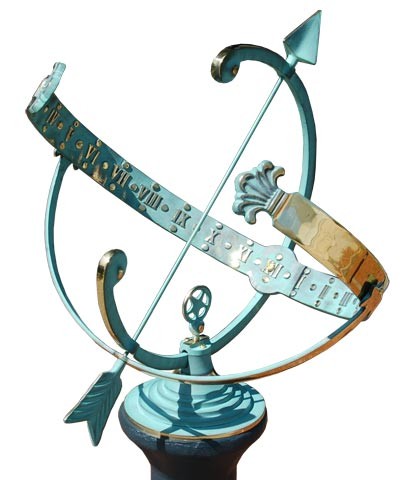 Details
Add brilliant style to your garden using this Rome Brass Armillary Sundial with Star. Placing an armillary in your landscaping brings a touch of early astronomy to it, and this piece perfectly celebrates celestial style. Intersecting arcs on this durable, brass unit evoke the meridians on globes, and the striking verdigris hue on these bands enhances your flowers. The center band also sports Roman numerals, and its 21.5 long arrow forms a gnomon for a fantastic sundial. Leaf shapes complete the time band, furthering the classic motif, and star shaped accents on the lowest arch and at the base of the piece hint at its astronomical history. Face the unit celestial north and adjust the angle of the gnomon to match your latitude for an accurate timepiece. Attach this dial to a pedestal (not included) for a fantastic display, or place it on a level surface in your yard. Its brass body weathers wonderfully, and its color scheme darkens over time for an antique effect. Highlight the heavens in your garden with this Brass Armillary Sundial with Star
Our inventory can change daily, please call 203-528-0130 to confirm availability.