CONSIGNED
Breadboard Leaf Custom Dining Table
SKU# 105396
$3,750.00
Dimensions:
116"W x 38.5"D x 30.5"H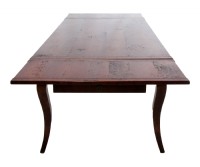 Details
A custom made breadboard leaf dining table with a hand hewn top and cabriolet legs. There are U shaped barss pieces that secure the leaves in place when installed.The wood appears to be cherry and it is a plank top. The leaves are each 19 wide and storebeneath the table in a felt lined compartment. The table's patina is very warm. A beautiful table for your home!
Our inventory can change daily, please call 203-528-0130 to confirm availability.